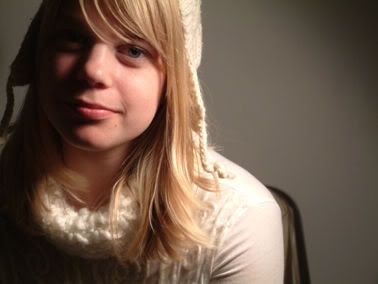 Image courtesy of kadeworld @ typepad.com


Opening for Wintersleep on the 24th was Basia Bulat and her backing band out of London, ON. To put an image in your head she's blonde, all teeth and sweetness when she smiles, and simply oozes energy and joy on-stage. Watch her for one song and it's clear she's made for the stage. Did I mention she's tiny? Her guitar is about as big as she is. She was backed by her band, Holly (who can sing a fierce harmony and plays ukelele and throws around a tambourine here and there), Mike (a mature-looking scholar on keys), Allison (on viola and contributing vocals as well), and her younger brother Bobby Bulat (kit, bongos).

In case you're worried about her own clout as a musician, never fear! Basia is the most multi-tasked of multi-instrumentalists. Boasting larger than life vocals, she also hammers away at the acoustic guitar and an instrument I can only describe as the love child of an accordion and a harp (which her bio page at basiabulat.com says is an autoharp), among other instruments not present at the show.

Basia's music is a forceful and jubilant mix of alternative-pop, folk, and old-school soul standards. If I could sum up her set in one single comparison, I'd have to say that Basia's music is the result of a fistfight between The Rankin Family and The Cranberries. That's live, of course. Without the acoustics of the Cunard Centre butchering the mix of instrumentals, the songs are deeply layered with melody and harmonies in bittersweet minor keys. You can easily imagine her sharing stage space with local acts Rose Cousins and Jill Barber. One song in particular, "Snakes and Ladders", stood out at the height of their set. All of the band's energy was poured into making this song perfect and to be honest, after listening to the recording, I definitely prefer the live version. Basia's vocals are projected so much stronger and with more emotion when in front of an audience.

Toward the end of the set, Basia asked Jon and Paul of Wintersleep, the headlining band, to join them on-stage for gang vocals. Paul (guitar, lead vocals) was quick to the stage but Jon (keys, vocals, guitar) appeared only after making sure he had his fill of the Thai take-out backstage. Or so we were told. Whatever the story, Jon showed up after the first chorus in mid-chew to help Basia and the gang out. Likewise, Wintersleep did the same later in their set, asking the girls up to sing gang vocals on "Weighty Ghost", the first single off the band's new album, Welcome to the Night Sky.

After the set, Basia was found dutifully manning the merch booth, signing CDs and handing out posters hand over hand. After humming and hawing for ten minutes or so, I managed to squeak out a compliment in the form of, "Your set... it... wow. The most... just... the most beautiful thing I have heard in a longlonglong time." I completely forgot every other question I had wanted to ask. She thanked me and said that she hoped the band would return in March for a headlining tour as was the plan. Joy! I advised her to try the Marquee the next time around. A great musician should have a great venue. A wonderful first visit to Halifax, Basia!

Basia Bulat's debut album, Oh My Darling was released earlier this year in Canada on Hardwood Records, already a hit in the UK and Western Europe. It is slated to be released in the US at the beginning of 2008. Until you can get your butt out of your computer chair to get it, check out three tracks from her debut at her MySpace, which boasts, "More fun than your very own pony!". Be on the lookout for a music video to be released to the Wild Web soon!

Since you asked nicely: "Snakes and Ladders".